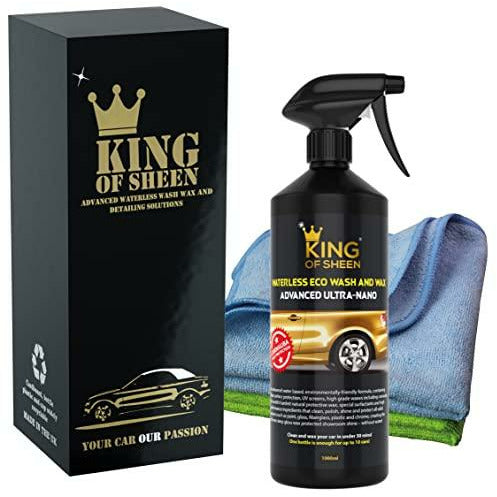 King of Sheen Advanced Ultra Nano Waterless Wash & Wax with Carnauba Wax, (1Lt) + 2 Cloths, No Scratch or Swirl Formula, Protects against Salt Damage
Regular price $20.00 $17.00 Sale
LOVE YOUR CAR, Love the environment then you will Love King of Sheen....
SHOWROOM SHINE IN UNDER 30 MINS, No streaks or smears, No water needed just spray on wipe then buff off.
NO SCRATCH FORMULA, Contains latest Nano technology and Carnauba wax, the world's hardest natural protective wax.
CLEANS, POLISHES, WAX AND PROTECTS all exterior surfaces with average usage of  150ml per vehicle. It is free from all abrasives, phosphates, bleach, solvent, petroleum, acids and any other harmful ingredients and contains UV screen protectors. It removes oxidation, water spots, traffic film and delivers a deep mirror-gloss finish, repelling water and dirt build. Perfect for new and older vehicles - use as a premium weekly maintenance/cleaning product.
GUARANTEED to make your car shine and you smile!! or your money back